What it's like to take a school trip to France in 2021 – A teacher's diary
— 6 Dec 2021 16:14:39 by Maria de Pascale
Since this group returned from France, entry rules have eased for school groups. Click here to read the latest rules for school trips to France.
In November 2021, Voyager School Travel organised a residential for 32 French learners, from Chafyn Grove School in Salisbury, staying at the Moulin aux Draps centre in Northern France. Head of French at Chafyn Grove, Amanda Maxwell, shares her experience of leading her first French trip in two years and why she thinks it was well worth the effort.
French residential trip: fact file
Trip name: French Christmas Markets school trip, 26–28 November 2021
Learning objectives: Immerse children in French language and culture
Group Size: 32 students + 4 teachers
The group stayed at the Moulin aux Draps centre, near the Opal Coast of Northern France, which is Voyager School Travel's third French language centre alongside Château de la Baudonnière and La Grand' Ferme in Normandy.
Our trip diary —Amanda Maxwell, Head of Modern Languages at Chafyn Grove School
The children and I were so looking forward to our French trip to the Christmas market in Lille. The purpose of the trip was to immerse children in French language and culture and, after being postponed for two years the school and parents were keen for the trip to go ahead—our children have missed out on so much and so I was determined to make it work! But as we boarded the coach on Friday morning, I must admit I was a little apprehensive—it's been a long while since our last trip abroad and the pandemic has made travel a little more complicated.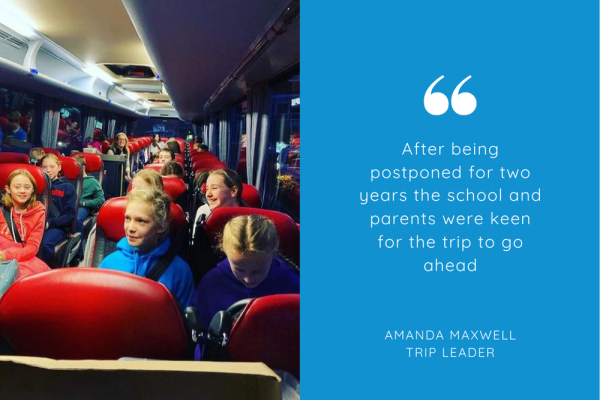 I'd completed a thorough risk assessment before the trip and went through, in detail, what we would do in each situation and so I felt fully prepared. Voyager School Travel supported me throughout the process and a special mention to Maria who answered all our questions promptly, provided all the necessary paperwork, was flexible with our arrangements and took great care of our group before and during the trip.
Voyager had explained that the over 12s in the group needed to take a test to enter France. We arranged for these to be taken the day before and received our results the morning of our departure. Thankfully, no one tested positive and so were free to go! Though it would have been a terrible shame for children to miss the trip by testing positive, I was reassured that the trip included COVID-19 insurance cover, just in case.
We arrived at Folkestone in plenty of time for the Shuttle. I had all the children's test results to hand and the adults were ready to show their vaccine status on the NHS app, but they weren't required. After two years' delay we were finally on our way to France.
We entered France with no problems and made our way straight to La Chocolaterie where the children learn about the process of making chocolate and loved tasting the finished product.
After that, it was just a short journey to our accommodation. We were staying at Voyager School Travel's Moulin Aux Draps centre which is set in the countryside and we were thrilled to discover that we had the place to ourselves.
Though the school has run this French trip with Voyager a number of times now, it was my first time at the Moulin. The children stayed in en-suite dorm rooms while all the teachers had their own hotel rooms which was great. It all felt very safe – the accommodation was spotlessly clean, the staff wore masks the whole time and there was plenty of hand sanitizer etc.
The food at the centre was a good quality and they dealt brilliantly with our dietary requirements, we notified Voyager late in the day that one of our group had a wheat allergy, but the Moulin centre was well prepared. The children even got to try les escargot with some even going back for seconds and thirds.
The highlight of the trip for the children and teachers was the Lille Christmas market. The children had a blast and were thrilled to see the snow falling as we travelled to Lille which made it feel extra Christmassy. The children spent their time on the ferris wheel, eating waffles and shopping for Christmas presents. The only complaint was that it was over too soon!
I was curious to see how things had changed in France, but apart from the extra paperwork and the group having to wear masks, the trip really didn't feel that different. The support we received from Maria and the Voyager team really gave me the extra confidence, both before the trip and while in resort.
My advice for teachers considering a similar trip is to go for it! It is worth the effort and that you are in safe hands with Voyager School Travel. The children were over the moon and I'm still receiving emails from parents to say how happy they are.
View from Voyager HQ —Maria de Pascale, Tour Manager
We've been hosting local French school children at our French centres since the start of the pandemic, but this was our first opportunity to welcome a group from the UK since March 2020 and so the staff were very excited.
As a Tour Manager it is my job to make sure Chafyn Grove's trip went ahead without a hitch and this included advising the group on the tests and paperwork they needed to visit France. It helped that Voyager has a large team living in France as they can help clarify the rules and practicalities on the ground.
Voyager's first priority is to maintain the safety of the group. Because the group were staying our own French language centre, the Moulin aux Draps, in Northern France I was confident that we could control all the health and safety elements of the trip. Our Moulin team have worked hard to ensure we comply with not only the French health protocols, but that we are aware of the English guidelines for school settings too.
Voyager also benefits from its own coach company, Pegasus, and so I knew that the coach driver had his COVID pass and all the necessary paperwork to cross the borders.
Because the group had waited so long for their French trip, I wanted to make sure that everything was perfect. I had already phoned the chocolate factory to see what paperwork they required and to make sure they were ready for our group. I even contacted the Lille tourist office to check that the Christmas market was still going ahead and that our group would be ok.
It was only a flying visit and so the group did not need any additional tests, but we can organise these at all our centres as required.
I stayed in regular contact with the teacher throughout the trip, in case she needed any additional help, but thankfully, I wasn't needed. The team at Voyager Head Office in Brighton were thrilled that Chafyn Grove had a great time and we loved looking at their trip photos on the Facebook as it makes all our hard work worthwhile.
We can make your French trip a reality!
Your school doesn't need to miss another French trip to the Château in 2022. Demand is high but we do still have some availability. Get in touch today to check availability for your group and we'll do our best to accommodate you.